Students! Did you do your profile survey? Check your email for a chance to win a £20 voucher and tell us what you think now!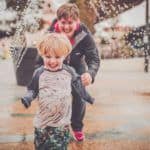 Wow! I still can't believe I won this! It's been an amazing (if hectic) two weeks. I have never typed so fast as I did in the chats, and some of the questions you asked were nothing short of brilliant. I think I've answered everything from is it ok to eat humans (unanimous agreement from the Food Zone scientists is NO!), to what's my favourite dinosaur (stegosaurs – I like the plates). Some questions I've had to really think about, and others I even had to go and look up myself (it's been a LONG TIME since I last thought about how light travelled!).
Thank you to everyone who voted for me and any of the other scientists in the Food Zone, as well as all the questions you asked any of us – watching the responses in the chat and ask sections, it was obvious that you guys were having as much fun as we were. I have learnt so much about myself and how I communicate, and I've loved finding out about some of the things that really matter to you. For some of you, it's felt as if the Food Zone was a safe place where you could escape from the real world for half an hour, and I can't begin to put into words how hearing that's what you thought has made me feel.
The rest of the scientists in the Food Zone were fantastic, and it's been an honour to take part in I'm a Scientist alongside you. But one of the biggest thanks has to go to the I'm a Scientist team, for the behind the scenes efforts that made it run so smoothly. So smoothly in fact that we probably weren't aware of all the work you put in! Thank you moderators for keeping us all in check (no small task!).
Finally, thank you to Solent University, where I work, for letting me spend two weeks where I essentially missed meetings and took ages to reply to emails because I was so busy with I'm a Scientist. As well as not saying anything when I dressed up as Batman. External relations and my colleagues and managers in the School of Sport, Health and Social Sciences have been particularly supportive – thank you! Nutrition is a brand new area for Solent (we're less than a year old!) and I'm thrilled that I've been able to able to share some of the work we've been doing in that time with you all.
I guess my experience can be summed up by answering one of your questions on why I did I'm a Scientist. I did it because I thought it would be a laugh (it was), I thought I'd expand my repertoire of food jokes (although there wasn't MUSHROOM to do that, I did) and I thought I'd meet a bunch of great kids and other scientists (I definitely did!). But what I really want, deep down, is to inspire you to take up science. I had an amazing Biology teacher when I was at school called Dr Hopkinson. You left his class wanting to know more, and that's when I knew I wanted to be a scientist. If, after taking part in I'm a Scientist, even just one of you decide you want to work in science, I'd be made up.
Shout out to Dr. Hopkinson! *fistbump
Scientists! If you'd like the chance to win funding for your own public engagement work, apply for the next I'm a Scientist, Get me out of here: imascientist.org.uk/scientist-apply