Profile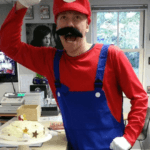 Mark Kirkwood
Survived an eviction.... OMG !
Curriculum Vitae
Education

Hewett High School, University of East Anglia (Twice!)

Qualifications

A levels, BSc Microbiology and a PhD.

Work History

Current Job

Employer

I work at the Quadram Institute, a world renowned research institute.

The mission of the Quadram Institute is to understand how food and the microbes in our gut  are linked to health and the prevention of disease.
Favourite thing to do in my job:

Find out something new

About Me:

Friendly, frenetic, focused, forgetful, family man!

Read more

Born and raised in beautiful Norwich, I live with my partner and 2 totally epic daughters. I have four passions, in no particular order:

Microbes – From diarrhoea causers, to food digesters, to flesh eaters, there's a microbe out there for everyone and anyone. You're covered in easily >1,000,000 of the little guys per square centimetre of skin, so might as well embrace them! I love learning about the good, the bad, and the just plain weird ones that exist in the world.
The planet – I don't just love the microscopic, I think all organisms are cool, and if we want to keep having plenty around to enjoy, we need to look after our planet too! I will happily talk your ears off about the benefits of recycling and renewable energy, and how we can all make our environment a better place for everybody.
My family – Part of the reason I'm an eco-nut is that I have a family and friends who I would like to see more of, and hope we can all live in a peaceful, safe and sustainable world.
Board games – If I'm not researching cool bacteria, trying to save the planet, or being tired out by my girls, then you'll probably find me sat at a table with some friends, starting intently at some little bits of plastic and cardboard, before jumping up, punching the air with my fist, and shouting "That's a 5 VP bonus for my completed objective and 10 extra soldiers! HA!!" Join the cardboard revolution!

My Work

Salmonella botherer, professional genome starer

Read more

I mostly poke and prod the gut pathogen Salmonella Typhimurium (just one of over 2500 different types of Salmonella!), using pipettes, petri dishes and programming (among other stuff).

I spend half my time in the lab, working out what they do in response to different environmental conditions, and the other half sat at a computer looking at their genomes.

We look at the connection between the genes that they have in them, to the physical characteristics they have, and how this makes it easier for them to survive in your food. If you've ever been to a BBQ and had a dodgy sausage, it was probably Salmonella that made you ill, and we are trying to work out how to stop that from happening!

My Typical Day:

From growing bacteria, to stressing them out, to smushing them open for tasty DNA, to looking at the DNA on a computer. All sorts!

Read more

I usually spend the mornings catching up with important emails or writing up results from the day or week before.

Then it's into the lab to set up some experiments or finish other ones off.

The afternoon will often involve computer work, as I analyse some genomes or data and come to some conclusions.

The great thing about science, is that there isn't really a typical day. You could do loads of lab work one month, and loads of computer work the next! Just see where the microbes takes you!

What I'd do with the prize money:

A gut microbes card game

Read more

I've always thought that games were the perfect way to teach, and so my ideal STEM engagement project would be to create an awesome little card game that taught people about bacteria and was fun to boot!

I'd love to cover the ideas behind your gut microbiota and how keeping it healthy is important, and what the different bacteria can do to help or upset that balance.

I'd need the money to help design, produce and playtest the game, so that it could be used in all Quadram outreach events in the future. That, or use the money to produce a few copies of the game to send out to local schools!

GAME ON FOR SCIENCE!
My Interview

How would you describe yourself in 3 words?

King of Salmonella

What or who inspired you to follow your career?

First, my biology teacher. Then, the microbes that caused all the awesome diseases I learnt about!

What was your favourite subject at school?

Biology

What did you want to be after you left school?

A scientist!

Were you ever in trouble at school?

Nope, total nerd.

If you weren't doing this job, what would you choose instead?

Eco Warrior

Who is your favourite singer or band?

Trivium

What's your favourite food?

Sushi

What is the most fun thing you've done?

Skydiving (or having kids I guess)

If you had 3 wishes for yourself what would they be? - be honest!

Just one - to be happy and feel fulfilled (that's all you really need!)

Tell us a joke.

A guy is sitting at home when he hears a knock at the door. He opens the door and sees a snail on the porch. He picks up the snail and throws it as far as he can. Three years later there's a knock on the door. He opens it and sees the same snail. The snail says: 'What the heck was that all about?'
My profile link:
https://ias.im/u.181193
---
---