Profile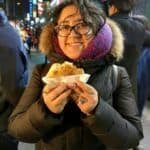 Simran Chopra
Eating . Thinking . Making . Engaging
My CV
Education:

Northumbria University – United Kingdom, National Institute of Design – India, Nottingham Trent University – United Kingdom

Qualifications:

Ph.D Human Computer Interaction (food and sustainability), B.A.(Hons.) Communication Design, M.Des. New Media Design

Work History:

Samsung Research & Development – India, Centre for Knowledge Societies, Bill & Melinda Gates Foundation, PriceWaterhouse Cooper

Current Job:
About Me:

I am a new media designer or you can say interaction designer, who is concerned about the planet, enjoys cooking, passionately grows plants and help others grow food in their gardens or backyards. I am from India, adore animals and I love my curry.

Read more

I like to think, question, innovate and build. I work within the disciplines of design, science, and art to make new technology or ways to engage with people.

We live in an imperfect world where there is an unequal distribution of resources, this is called social injustice. I have always liked to question and think about social justice especially in the areas of food, education, and economics.

My interest and areas of work are varied and can range from being a scientist, a designer, an urban farmer, a food activist, an educator, an artist or maybe more.

 I like to cook, love dogs, grow food, do yoga, go for a swim and make new things.

Read more

I work in the field of Human-Computer Interaction (HCI). The field deals with designing new technology and interfaces, making it easier for people to understand and use them. In my earlier work, I built a phone assistant, few mobile apps, a tweeting apple, a talking plant, a board game, a futuristic restaurant, an interactive installation all using sensors and electronics. I use code, an Arduino (microcontroller) and everyday objects like a cup, a map or plant pot to make interactive experiences.
In my Ph.D., I am working on the problem of food production and consumption in future cities using design as a research tool e.g. we make a plant bot connected to the internet which tweets to you if it needs water and we then show it to people and get their feedback.

My Typical Day:

Create new ways of engaging people through design and technology to discuss food and sustainability

Read more

I start my day early, mostly at 5:30 am. I do some yoga or if there is a meeting on the day I prepare for it.  Make some breakfast, pack my lunch and get ready to leave for work by 8:30 am. Once I am at my workplace which is the university department where I am doing my Ph.D, I look at incomplete tasks from yesterday and my schedule for today to get a sense of my day. I read a lot of research papers and create new ways to engage people in discussions like planning workshops. I recently created a game, a map and took people for a walk around their neighborhood to discuss problems around food.

When in my lab, I will grab a coffee couple of times while working. We eat lunch together and if it is sunny, we take our lunch out to the campus lawn. Towards early evening I start to pack and try to leave by 5:00 pm. I take the bus home or walk if the weather is nice. Sometimes I go for a run or to the gym or buy groceries before I go home.

What I'd do with the prize money:

Talk about food and sustainability through workshops with school kids by designing new technologies for the future
My Interview

How would you describe yourself in 3 words?

Curious, Creative, Childlike

What did you want to be after you left school?

A Doctor

Were you ever in trouble at school?

Once when I went creative and submitted my (art) version of a physics assignment

Who is your favourite singer or band?

Bob Dylan

What's your favourite food?

Dal (Indian lentil curry) and Naan Bread

If you had 3 wishes for yourself what would they be? - be honest!

Travel the world to document and eat different kinds of food, Invent ways to help people to grow food in their houses, Own an apple orchard on the hills

Tell us a joke.

What did the chicken say to the librarian? - "pook pook pook"
---
---
---